Applebee's Oriental Chicken Salad with fried chicken, crisp lettuce, nutty almonds, crunchy rice noodles, sweet carrots, and creamy dressing is absolutely delicious! There's no need to go to the restaurant when you can make this incredible Asian salad at home.
This post contains affiliate links. As an Amazon Associate, I earn from qualifying purchases.
What Makes the Applebees Breaded Oriental Chicken Salad So Good? 
Can a salad be a satisfying meal on its own? Yes, when it is an Oriental Chicken Salad from Applebee's.
This ultimate entree-sized salad features crunchy chunks of breaded chicken served on a bed of crispy lettuce, shredded red cabbage and carrots, slivered almonds, and sliced green onions tossed with Applebee's Oriental Chicken salad dressing. 
Why You Should Try This Recipe 
Applebee's modern updates to the classic Oriental Chicken Salad recipe may be minor, but they make all the difference when it comes to taste and texture.
Swapping crispy chicken tenders for poached chicken adds even more crunch and ensures the meat is tender. Replacing most of the cabbage in the traditional recipe with romaine lettuce reduces some of the original dish's bitter taste.
Oriental Chicken Salad Ingredients
For the chicken tenders, you'll need:
Chicken breast
All-purpose flour
Salt
Black pepper
Garlic powder
Egg
Milk
Plain panko breadcrumbs 
Peanut oil for frying
Peanut oil is excellent for frying, but with the increase of people who have nut allergies, you may want to swap out the peanut oil for another variety.
For the salad dressing, you'll need:
Honey
Rice vinegar
Mayonnaise
Dijon mustard
Sesame oil
Salt
For the rest of the salad, you'll need:
Romaine lettuce, chopped
Red cabbage, chopped
Shredded carrots
Almonds, sliced
Green onions, chopped
Fried chow mein noodles
Fine fried chow mein noodles are best for this dish, but you can also use regular-sized fried chow mein noodles. Even seasoned instant ramen noodles or crispy fried onions will work in a pinch. 
To make Applebee's Oriental Chicken Salad Dressing
Place all the dressing ingredients in a bowl.
Stir or whisk until combined and smooth.
To prepare the breading mixtures for the chicken tenders:
Set up a breading station with three wide, shallow bowls and a wire rack over a rimmed baking tray.
Whisk the egg and milk in a bowl. 
Use a fork to mix the flour, salt, black pepper, and onion powder in another bowl.
Place panko breadcrumbs in the last bowl. 
Pat the chicken breasts and cut them into inch-and-a-half strips. 
Dredge each chicken strip in the flour, dunk it in the egg mixture, and then coat it with panko. Place it on the wire rack. Repeat with the remaining chicken strips. 
Place the breaded chicken strips in the fridge for at least 15 minutes to allow the breading to adhere.
To bread and fry the chicken tenders:
Pat the chicken breasts and cut them into thin strips. 
Dredge each chicken strip in the flour, dunk it in the egg mixture, and then coat it with panko. Place it on the wire rack. Repeat with the remaining chicken strips. 
Place the breaded chicken strips in the fridge for at least 15 minutes to allow the breading to adhere.
Take the chicken tenders out of the fridge.
Pour at least three inches of oil into a wide heavy-bottom pan and clip a deep-fry thermometer to the side. To make frying easier, use a deep fryer. 
Heat the oil over medium-high until the temperature reaches 350 degrees F. 
Cook the chicken tenders in batches for about 5 minutes or until the chicken is golden brown.
Use a food spider to remove the chicken and drain it on a paper towel. Check to make sure the internal temperature is at least 165 degrees. 
Cook the remaining chicken tenders.
Cut the fried chicken tenders into bite-sized pieces.
To assemble the Oriental chicken salad:
Rinse and dry the lettuce and red cabbage to remove any excess moisture.
Chop the lettuce into bite-sized pieces and shred the cabbage and carrots. Try using a vegetable shredder to make it much easier. Thinly slice the green onions.
Place the lettuce, chopped veggies, almonds, and noodles in a large salad bowl.
Toss all the ingredients for the salad except the chicken in a large mixing bowl. 
Plate the salad and top with the cubed chicken before serving. 
What to Serve With Fried Chicken Salad
You don't need more than a fork to enjoy this salad, but adding a side dish or two is a nice touch. Although half of a sandwich or a cup of soup is a classic pairing, you can get a little more creative than that by serving a stuffed baked potato or crispy potstickers instead.
How to Store the Leftovers 
Refrigerate each component separated in airtight containers until you are ready to assemble the salad and eat. It is best to only keep a dressed salad in the fridge for a few hours before serving. 
How Long Does the Salad Last?
The cooked chicken tenders will last up to three days in the fridge, but the prepped vegetable won't say crispy for more than a few hours. Keep the chicken in an airtight storage container.
You can keep the salad dressing in its own airtight container for up to a week in the fridge. 
More Applebee's Copycat Recipes
Popular Salad Recipes
Check out more of my easy salad recipes and the best copycat restaurant recipes on CopyKat!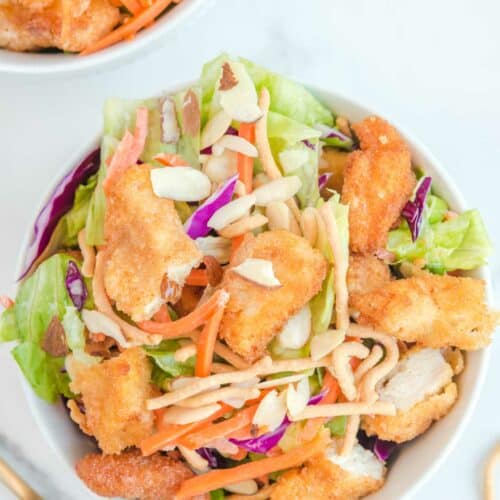 Print
Add to Collection Go to Collections
Applebee's Oriental Fried Chicken Salad
You can make Applebee's Breaded Chicken Oriental Salad at home.
Ingredients
Oriental Dressing
3

tablespoons

honey

1

tablespoon

rice vinegar

¼

cup

mayo

1

teaspoon

dijon mustard

¼

teaspoon

sesame oil

1

pinch

salt
Fried Chicken Tenders
2

boneless skinless chicken breast

cut into long strips

1

cup

all-purpose flour

1

teaspoon

salt

½

teaspoon

pepper

½

teaspoon

garlic powder

1

egg

½

cup

milk

1

cup

plain panko bread crumbs

3

cups

peanut oil for frying
Salad
3

romaine hearts

chopped

½

cup

red cabbage

chopped

1

cup

shredded carrots

3

tablespoons

sliced almonds

2

green onions

chopped

5

ounces

chow mein noodles
Instructions
In a small mixing bowl, blend all ingredients together for the dressing. Cover and set inside the refrigerator.

In a shallow bowl, combine together flour, salt, pepper, and garlic powder. Mix well using a fork.

In a separate small bowl, beat together the egg and milk until fully combined.

Add peanut oil to a medium skillet and allow it to heat up over medium heat.

Place each piece of chicken inside the flour mixture, coating evenly.

Working one tender at a time, dunk into the egg mixture, coating completely.

Next add the tender to the bread crumb mixture. Toss gently to cover the entire tender with bread crumbs (don't forget the sides). Repeat this process for each tender, working one at a time. Set aside.

Add chicken tenders to peanut oil and allow each tender to cook until it's golden brown. Use a pair of tongs to flip the tenders they cook.

When done, add tenders to a bed of paper towel to drain before dicing. Set aside to cool.

In a large mixing bowl (or food processor), combine all ingredients for the salad. Top with the breaded chicken and dressing. You may toss before serving or allow each serving to be tossed individually.
Nutrition
Calories:
654
kcal
|
Carbohydrates:
83
g
|
Protein:
28
g
|
Fat:
24
g
|
Saturated Fat:
4
g
|
Polyunsaturated Fat:
10
g
|
Monounsaturated Fat:
8
g
|
Trans Fat:
0.04
g
|
Cholesterol:
87
mg
|
Sodium:
1152
mg
|
Potassium:
764
mg
|
Fiber:
8
g
|
Sugar:
20
g
|
Vitamin A:
13049
IU
|
Vitamin C:
14
mg
|
Calcium:
152
mg
|
Iron:
5
mg