What's that? You're craving pasta but also want some veggies and protein? Well, you've made it to the right recipe. This easy Vegan Pasta Primavera has all the comforting goodness you love about pasta, plus plenty of versatile veggies and protein-packed chickpeas! 
It's simple, savory, optionally gluten-free, and a delicious way to use up any veggies you have lingering around (who, us?). With just 10 ingredients required, we can't wait for you to give it a try.
Vegan Pasta Primavera with Roasted Veggies from Minimalist Baker →
Is there anything better than a meal that's quick, versatile, and satisfying?! We think not! This Easy Baked Cod hits all those marks — and more! It's fresh, features a rainbow of spring vegetables, yields perfectly cooked, flaky fish, and is ready in 30 minutes! 
It's our new favorite sheet pan meal, especially served with polenta, roasted potatoes, or lemon risotto.
Easy Baked Cod with Spring Vegetables from Minimalist Baker →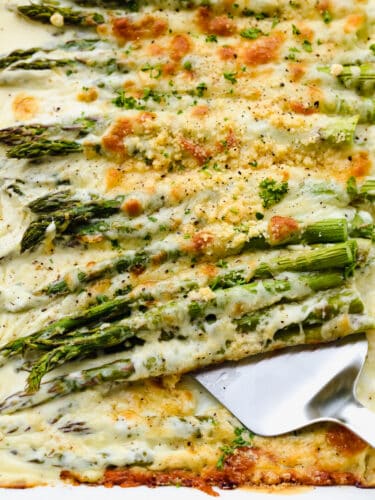 This cheesy baked asparagus will be the best side dish that you have ever had! Packed to the brim with flavor and melted cheese, this asparagus makes my mouth water just thinking of it! Vegetables are needed with every single meal so why not make them as delicious as possible? Try out some more of…