Classic IHOP French Toast is buttery, sweet, and a wonderful breakfast. Serve with a sprinkle of powdered sugar on top, butter, and syrup for a delicious way to start the day.
This post contains affiliate links. As an Amazon Associate, I earn from qualifying purchases.
What Makes IHOP French Toast So Good 
French Toast is a pretty practical recipe. After all, it was initially created as a simple way to use leftover bread from dinner that has gone stale overnight. Today, French Toast is a bit more sophisticated.
Take this IHOP French Toast recipe for example. Instead of just whisking together eggs and maybe a splash of milk, the recipe for IHOP original French Toast contains flour, sugar, vanilla extract, and a touch of salt.
It may seem like a lot of work to mix up a batter to make French Toast, but once you try it, you will never make it any other way.
Why You Should Try This Battered Recipe for Your Next Breakfast 
The unique battering technique for the French Toast at IHOP is what ensures the bread is never soggy and that the exterior cooks up crispy without any dry or burnt spots.
If you have never tried making battered French Toast, it will change your breakfast game forever. 
IHOP French Toast Ingredients
To make this recipe, you'll need:
Thick-sliced bread
Eggs 
Milk 
Vanilla extract
AP flour 
Granulated sugar 
Salt 
Butter or oil
Powdered sugar 
How To Make IHOP French Toast 
To prepare the IHOP original French Toast recipe:
Whisk together the eggs and milk in a mixing bowl.
Stir in the granulated sugar, vanilla extra, and salt into the milk mixture.
Place the flour into a fine mesh strainer and slowly shake into the mixing bowl while continuing to whisk.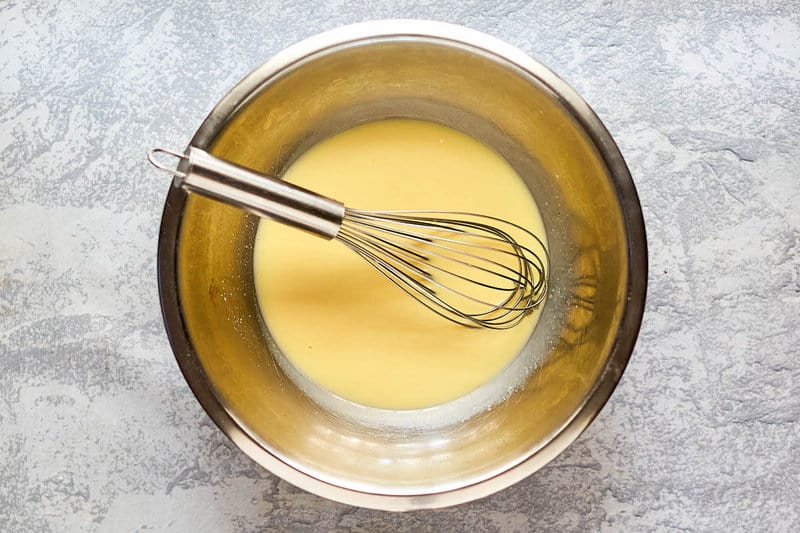 Strain the batter through the same fine mesh strainer into a wide deep-rimmed baking pan.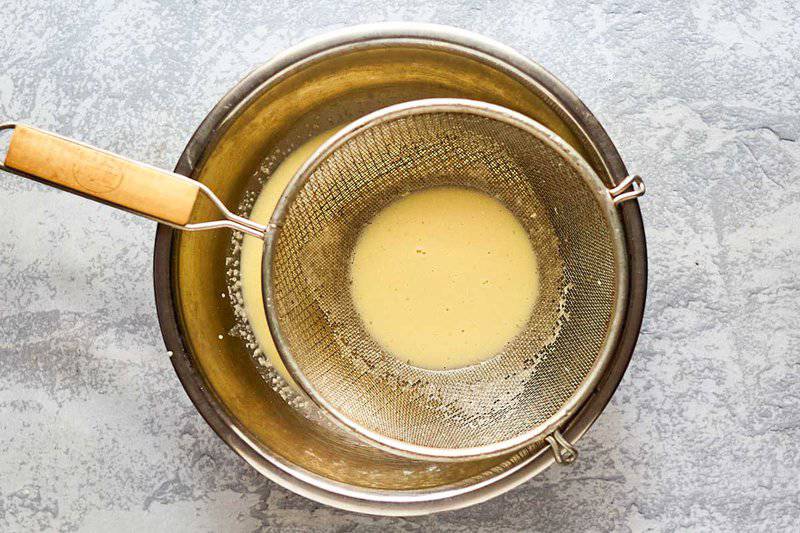 Place a large heavy-bottomed frying pan or griddle over medium heat.
Place the bread slices into the batter. Flip the bread and allow the batter to soak into the bread. The batter should penetrate completely into the bread to avoid leaving the center dry. However, don't soak the bread too long, or it will begin to fall apart. The timing will depend on the type of bread you use.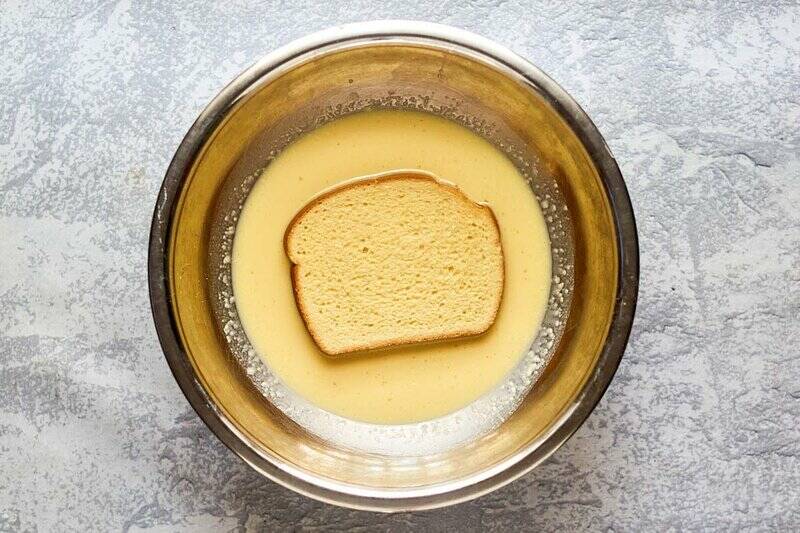 Brush the cooking surface with softened butter or oil.
Cook the slice of bread until it is golden brown. By the time the first side cooks, the batter on the other side should have lost its shininess. If the French Toast is cooking too quickly, turn down the heat. Flip and cook the second side until golden brown.
Serve warm. Garnish with powdered sugar, if desired. 
Bread Variations 
You can use just about any type of bread to make French Toast, but here are a few of the best choices:
Challah or brioche bread. Any bread that contains eggs will deliver a much heavier and fuller flavored French Toast.
Thick-sliced sandwich bread. Bake a loaf and slice it thick.
Cinnamon raisin or panettone bread. Sweet bread studded with fruit makes an outstanding French Toast. With a little whipped cream and some fresh fruit, you can get by serving this version as a light dessert. 
Coffee or pound cake. If you really want to turn the corner from breakfast to dessert, why not try making this recipe with coffee or pound cake? A bit of whipped cream and chocolate chips is all it takes to turn this recipe into a crowd-pleasing dessert. 
French Toast Topping Ideas 
There are hundreds of ways to top French Toast. Here are a few that you may want to try:
Fresh fruit. Blueberries, bananas, strawberries, and coconut are all excellent choices, especially when served with a dollop of whipped cream.
Nuts. Pecans, walnuts, or almonds will give it a nice crunch.
Masercrated strawberries. Macerating strawberries is a wonderful way to use up strawberries that are either too soft, too bitter, or just a little unattractive. Hull and slice the strawberries. Sprinkle 2 tablespoons of sugar per 1 cup of fruit. Cover and refrigerate for at least 1 hour. 
Sweetened cheese frosting filling. Stack two pieces of French Toast with a thick layer of mascarpone or cream cheese frosting between the slices for a decadent treat.
How To Store Leftover French Toast 
Save a lot of time by making this IHOP French Toast copycat recipe in advance and freeze for quick weekday breakfasts:
Follow the recipe to the end, and let the French Toast cool on a wire rack. 
Place the French Toast on a sheet pan and stick the pan in the freezer until the French Toast freezes solid. 
Transfer the frozen French Toast to a freezer bag and store for up to two months. 
How to Reheat Leftover French Toast 
To heat frozen French Toast:
Preheat the oven to 400°F.
Place the frozen French Toast on a baking pan with at least an inch between each slice.
Bake on each side for about three minutes or until warmed through.
Love IHOP? Try These Copycat Recipes!
Favorite Breakfast Recipes
Check out more of my easy breakfast recipes and the best copycat restaurant recipes on CopyKat!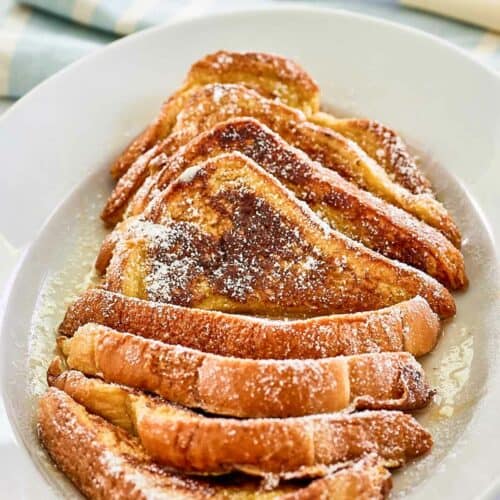 Print
Add to Collection Go to Collections
IHOP French Toast
You can make delicious IHOP French Toast at home with this easy recipe.
Ingredients
8

slices

Texas Toast or other very thick sliced bread

3

eggs

¾

cup

milk

1

teaspoon

vanilla extract

¼

cup

all-purpose flour

1

tablespoon

granulated sugar

¼

teaspoon

salt

2

tablespoons

powdered sugar for dusting French toast

2

tablespoons

melted butter for skillet
Instructions
In a medium-size bowl, beat together the eggs and the milk.

Sift the flour, granulated sugar, vanilla, and salt into the egg mixture. Beat to combine.

Strain the custard mixture using a wire mesh strainer into wide pan.

Heat a skillet or a griddle to about 350°F.

Brush the skillet/griddle with butter.

Place the bread into the custard mixture, then flip over the bread, and then place the bread onto the hot cooking surface.

Cook for 1 to 2 minutes on each side. The bread should be golden in color when cooked through.

Remove the French toast from the skillet.

Sprinkle with powdered sugar.

Cut the French toast diagonally if desired.

Serve with butter and maple syrup.
Nutrition
Calories:
384
kcal
|
Carbohydrates:
43
g
|
Protein:
10
g
|
Fat:
19
g
|
Saturated Fat:
7
g
|
Polyunsaturated Fat:
1
g
|
Monounsaturated Fat:
2
g
|
Trans Fat:
0.1
g
|
Cholesterol:
91
mg
|
Sodium:
624
mg
|
Potassium:
60
mg
|
Fiber:
2
g
|
Sugar:
10
g
|
Vitamin A:
231
IU
|
Calcium:
33
mg
|
Iron:
13
mg
The post IHOP French Toast appeared first on CopyKat Recipes.